3 BASSES
Vocal (Special Projects)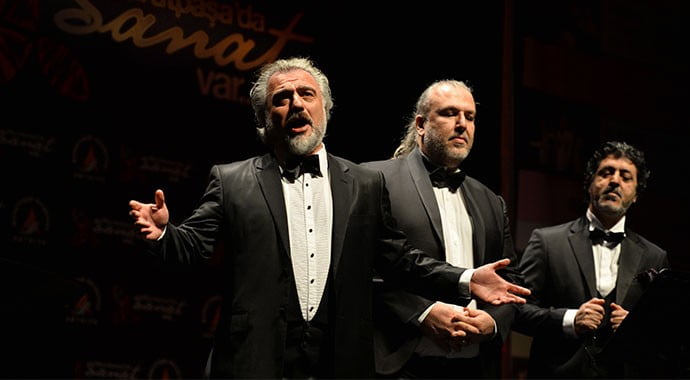 Meeting with art lovers at Ankara, Istanbul and Izmir State Operas for more than 20 years, at the height of their careers, having been so successful on the stages of Turkey and the world and receiving many awards, we as artists Tuncay Kurtoglu, Tevfik Rhodes and Zafer Erdas came together and decided to form a group called 3BASSES, which seeks to promote, endear and disseminate operatic art and polyphony through the window of the basses, is a group that is unique in the world and having a "Wow factor", aiming to create different colors in their repertoire from local to national, national to universal, aiming to be a light for society with polyphonic music. As 3BASSES group, we want to reach places that state operas have not been able to reach at home and abroad, to bring our art-loving audiences together with the magical world of opera and polyphonic music, and to introduce them to the rich, unique repertoire of this art.
When we did the repertoire search, we took care to choose the best suitable works without boring the audience but also without compromising from our art. However, we didn't just stick to the opera repertoire. We also benefited from our traditional Turkish folk music, popular songs, musicals and foreign folk songs. At the same time, we tried to support some arias and songs as much as we could with costumes and layouts, and this show came out. The co-singing of any aria or song by 3BASSES received very positive reactions from the audience. Seeing that we have achieved the goal of presenting a pleasant time for our audiences, which is one of our biggest goals, made us even more excited for the future concerts… In short, we want to perform in every venue where we can apply this concept… We hope to meet at 3BASSES concerts at a convenient time, in a suitable environment.
With Love and Respect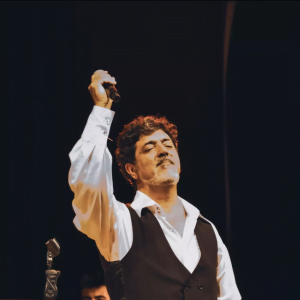 TEYFİK RODOS
Bass
Tevfik Rodos started attending the voice classes in Izmir State Conservatory. He studied voice with Prof. Sevda Aydan and Prof. Müfit Bayraşa and acting with Necdet Aydın. After having given various concerts with Akdeniz Youth Orchestra and Chorous, he graduated from the Izmir State Conservatory in 1990 and started working at the Izmir State Opera the same year. His first important role was Don Pasquale in 1991. He has sung Banco in Macbeth in Burgaz (Bulgaria) in 1993 and in the same year he started studying with the Russian Pedagog Prof. Konstantin Lisovsky. After having attained a state scholarship in 2001, he went to Vienna where he studied repertory and style with Prof. Jevgeny Nesterenko.
In Izmir State Opera he had leading roles in Don Pasquale, Butterfly (Bonzo), Macbeth (Banco), Ali Baba ve Kırk Haramiler (Harami Başı), La Boheme (Colline), Rigoletto (Monterone, Sparafuccile), Don Giovanni (Don Giovanni), Fidelio (Don Fernando), Faust (Mephistopheles), Nabucco (Zaccaria), Barber of Seville (Don Basilio), Viva la Mama (Emprezario), Il Turco in Italia (Selim Pasha), La Traviata (Markiz, Doctor), The Magic Flute (Sprecher), Norma (Oroveso), Nasreddin Hoca (Timur), Un Ballo di Maschera (Tom), Carmen (Zuniga), L'elisir D'amore (Dulcamara), Tosca (Scarpia), The Flying Dutchman (Daland), Yusuf and Züleyha (Yakup), Romeo and Juliette, Simon Boccanegra (Fiesco) ,La Muerte de Garcilaso (Capitan Lara) (World premier), Cosi Fan Tutte (Don Alfonso), Imeneo (Argenio) , 4. Murat (4.Murat) Aşk-ı Memnu (Adnan Bey), Turandot (Timur), La Sonnambula ( Count Rodolfo), Aida ( Ramfis), Medea (Creonte) , Iolanta (Rene), Lüküs Hayat ( Rıza) , Hekimoğlu ( Dadyan Efendi), and he performed the bass solo parts in Verdi "Requiem" , Mozart "Requiem", Beethoven "9. Symphony", Rossini "Stabat Mater" , A.A.Saygun "Yunus Emre" , A.Hoca "Çanakkale Çanakkale"… He has participated in the International Aspendos Festival in Magic Flute, La Boheme, Nabucco, Tosca, The Flying Dutchman, Fidelio and Don Giovanni. He has also sung Fidelio in Cyprus and İstanbul. Giving numerous concerts both with piano and with orchestra, he gave two successful concerts in Eschenbach Palace in Vienna and in Russian Cultural Institute in 2001.
Since 2003, he has taken the bass roles in works such as « La Bohème », « Iolanta » , « Verdi Requiem » and « Medea » in Antalya State Opera and Ballet and joined the Aspendos Festival. In 2004, Rodos also sang the Dulcamara role (L'elisir D'amore) in Istanbul State Opera.
In 2005, he had the chance to sing Verdi Requiem in Marl, Germany and repeated the concert in Ephesus Antique Theater. He premiered « Çanakkale Çanakkale » (2006) and 'Aydınlığın adı Atatürk' (2007) oratorios written by Ali Hoca.
In 2009, at the Izmir State Opera, he took part in the world premiere of Rupert Chapi's « la Merte de Garcilaso » (Capitan Lara), which was also performed in Toledo (Spain) and recorded on DVD. He took roles in many operas, performed in many countries such as Spain (Gijon ; 2010), Holland (Amsterdam; 2012), Egypt (Cairo, Alexandria). He performed « Yunus Emre Oratorio » by A. A. Saygun in Germany (Osnabrück). This performance was recorded on CD.
In June 2017, Rodos toured in South America with the violinist Cihat Aşkın and pianist Mehru Ensari. The trio gave four concerts in Brazil and Argentina. He received an honorary prize and medal by the Buenos Aires City.
Rodos continues his concerts as 'Three Basses' with his colleagues Tuncay Kurtoğlu (Ankara State Opera) and Zafer Erdaş (Istanbul State Opera) in Turkey and abroad. Rodos is currently working as a soloist at the Izmir State Opera.
TUNCAY KURTOĞLU
Bass
Born in ANKARA in 1970, Tuncay Kurtoglu, soloist of the Ankara State Opera and Ballet, graduated from Gazi University Department of Music Education. During his more than 30 years of art life, he interpreted bass characters in operas and successfully represented his country in numerous representations and concerts at home and abroad. He started his singing studies with Fevziye BARTU and continued his artistic work with Ihsan ŞENOL for many years since 1990.
He has won significant degrees in international opera competitions (1. Leyla Gencer-Honorable Mention, Barcelona Vinas- 3rd place, P. I. Tchaikovsky – "Best Tchaikovsky Romas Interpretation award", Verviers- 2nd place, Valsesia- 2nd place and 1st prize in Alcamo Competition). Between 2004 and 2006, he appeared in eight productions (Il Trovatore, Luisa Miller, Don Giovanni, G.Verdi-Requiem, Mozart and Salieri, La Battaglia di Legnano, Bellini-Ultime Luci, Il Viaggio a Reims) at Italy's major Opera houses.
Also he took leading roles and was praised for his performances in Aida in Chile-Santiago, Pearl Hunters in Switzerland-Basel, The Barber of Seville in Bulgaria-Sofia, Oedipus Rex in Austria-Innsbruck, Mozart-Requiem at the Belgrade-Sava Center, and 9. Symphony, Haydn-Messias in Patmos, Greece, Beethoven 9 in Brussels. Kurtoglu was a soloist at the historically important A.A.Saygun – YUNUS EMRE ORATORIO Concerts held in New York, Washington (USA) and Astana (Kazakhstan).
He performs regularly with all symphony orchestras in Turkey. For 20 seasons, he has been performing "Osmin" in the opera W.A.Mozart-Abduction from Seraglio, which was performed at the International Aspendos Festival, Topkapi Palace, Archaeological Museum and Yildiz Palace, and has been praised for his performances in S.Korea, Estonia, Ekaterinburg, China and Italy with the Ankara State Opera and Ballet. At the same time, he performs at home and abroad with his group "3BASSES". Tuncay Kurtoglu received the "Best Male Opera Artist" within the scope of the 1st Lions Opera Awards in 2010, "Best Classical Music Artist of the Year" in 2011 as a result of the popular vote within the scope of the Donizetti Classical Music Awards, the "Mustafa Iktu Honorary Award" given by the Semiha Berksoy Foundation in 2013 and the 6th Annual Academy Awards in 2016.
Donizetti was awarded "Best Male Opera Singer" at the Classical Music Awards. From 2011 to 2015, he successfully performed the roles of Don Carlos (Le Grand Inquisiteur), Falstaff (Pistola) and Figaro's Wedding (Don Bartolo) at Hamburg Staatsoper, one of Germany's most important opera centers. In 2016, he became the first Turkish artist in Germany to interpret the role of "Yunus Güner" in the opera "Against the Wall". In the same year, he toured Germany with Fidelio (Don Pizarro) and the Berlin Staatsoper. In the 2018-19 season, he performed at the Wiesbaden Staatsoper in Germany, the Masked Ball and Die Meistersinger von Nuremberg, "Alpaslan" at the Giessen Stadttheater and the Don Giovanni Operas at the Immling Festival. In 2020, he was invited to perform a Gala Concert with the Vanemuine Symphony Orchestra in Tartu, Estonia, alongside G.Rossini "Stabat Mater". Kurtoglu performed "Osmin" in the opera W.A.Mozart – Abduction from Seraglio at the 11th International Istanbul Opera Festival and performed the world premiere of the cantata "MEVLID", dedicated to him by composer Selman Ada, under the direction of the composer (April 2011).
There are CD recordings of A.A.Saygun "YUNUS EMRE ORATORIO" performed by the artist with Bilkent Symphony Orchestra, A.A.SAYGUN and M.SUN Polyphonic Folksongs, which were made with the State Polyphonic Choir of the Ministry of Culture, and "Poetic Loves" with theGroup Abra of which he is a member. Since 2016, he has been working as a "Guest Artist" at Samsun State Opera and Ballet where he is also the "Art Consultant" of this company.
ZAFER ERDAS
Bass-Bariton
Bass Zafer Erdaş graduated from the Mimar Sinan University State Conservatory of Istanbul in 1995. He started his professional operatic career in the State Opera and Ballet of Ankara, Turkey the same year as a chorus member. He appeared as a soloist in the Izmir State Opera and Ballet from 1996 through 2000. From 2000 on, he has been a regular soloist of the Istanbul State Opera and Ballet.
So far, he has studied singing with a variety of eminent teachers including Mrs. Atıfet Usmanbaş of Turkey, Mr.Roman Verlinsky of Poland, Mr.Constantine Lisovsky of Russia, Mr.Vasil Vasiliev of Bulgaria, Mr.Lucinio Montefusco of Italy respectively. Besides,h e also attended a series of perfection courses on a repertoir comprising of works of Rossini-Bellini-Donizetti and Verdi under the supervision of the worldwide renowned Turkish Diva Leyla Gencer of Teatro alla Scala. Then he continued his studies with another fabulous opera singer and State Artist, bass Ayhan Baran.
He is also the member of a unique ensemble with two other colleagues as "3Basses" who are steadily performing both in Turkey and abroad since 2008 with geat success to critical acclaim from public and critics as well due to their high artistic calibre and for being the only 3 Basses ensemble in the world of opera.