Anton Baranov
Guitar (General Management)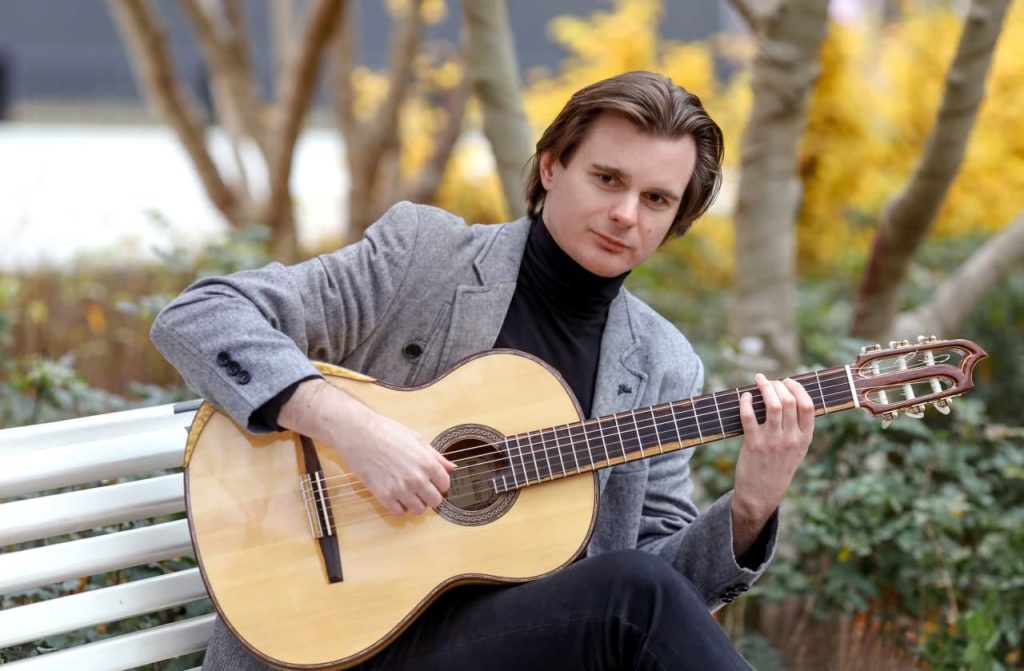 "His creative interpretation of each work is undeniable in his daring instrumental technique."  The Index, West Michigan
"Baranov is an artist who manages to paint beautiful sound pictures of rich depth and color from his guitar."  The Guitar, New York
"…a musical journey with tonal and technical perfection" Borbecker Nachrichten, Essen
"Baranov's playing was pure magic. So subtle were his timing and touch—from
Gentle grazes of the fingers to more deliberate plucks—that it seemed like a joke to think
that the music he played could be represented by marks on a page." Cleveland Classical
"Mr. Baranov plays with the stylistic identity of a native of Latin America. No
Russian accent here…" American Record Guide
As the winner of both the 2013 Guitar Foundation of America and the Francisco Tárrega Competitions along with top prizes from nearly 20 prestigious contests around the globe, Russian guitarist Anton Baranov has established himself as one of the leading guitarists of today.
His performances in a number of distinguished halls such as Carnegie Hall in New York, Mariinsky Concert Hall in St. Petersburg, Tchaikovsky Hall in Moscow,
Centenario Hall in Beijing have been described by musical critics as "pure magic" (Cleveland Classical), and "manages to paint beautiful sound pictures of rich depth and color with his guitar." (The Guitar). Besides his concert activity Anton Baranov gives master-classes at McGill University in Montreal, South Vietnam Conservatory in Ho Chi Minh City, Estonian Academy Of Music And Theatre in Tallinn and other institutions.
Baranov's recordings include an album for Naxos Classical and a CD for Contrastes Records. Naxos release of Latin American Guitar Sonatas received
American Classical Records Guide award as one of the best albums of 2014. His Contrastes Records album consists of Spanish guitar music and it's on the market since August 2014. The most recent recording 'White Nights Serenades' released in August of 2019 by 'Fleur de son classics' is distributed worldwide by Naxos of America.
1st Place

Guitar Foundation of America (GFA)
Louisville, USA, 2013
Francisco Tarrega Competition
Benicassim, Spain, 2013
Robert Vidal Competition
Barbezieux, France, 2013
JoAnn Falletta Guitar Concerto Competition
Buffalo, USA, 2016
World Guitar Competition
Novi Sad, Serbia, 2013
Guitar Gems Competition
Netania, Israel, 2012
Khorev Guitar Competition
St.-Petersburg, Russia, 2013
Guitar Virtuosos
St.-Petersburg, Russia, 2009
2nd Place

Mottola Guitar Competition
Italy, 2012
Ville D'Antoni Guitar Competition
France, 2012
Alexander Frautchi Competition
Moscow, 2013
Barrios WWW Competition
Asuncion, Paraguay 2011
3rd Place

Koblenz Guitar Competition
Germany, 2012
Pittaluga Guitar Competition
Alessandria, Italy, 2013
Ligita Competition
Lichtenstein, 2013
Andres Segovia Competition
Almunecar, Spain, 2011