Indian Ethnic Music
"Dhoad" Indian Ethnic Music (Turkiye, Various Countries)
Dhoad Gypsies is a collective of consummate, wise and spirited musicians, vocalists and dancers of all generations.
The mesmerizing, spectacular, fabulous show of poets troubadours, musicians, dancers and fakir (fire eater) from the country of Maharajas.
With six musicians, one dancer and one Fakir/Fire-eater. The Dhoad Gypsies are dedicated to gathering the leading figures of the Rajasthan musician castes.
Award Winning Founding musician and Artistic Director – Rahis Bharti – has spent over 22 years spreading the musical culture of Rajasthan to a World wide audience.
For more information please visit: DHOAD Official Web Site
Jaipur Maharaja Brass Band
Jaipur Maharaja Brass Band provides a thrilling p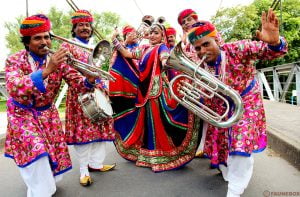 erformance combining exciting music fusion with stunning dances and mind-boggling feats of strength and skill.
Originating from Jaipur, the city of the maharajas, the Jaipur Maharaja Brass Band play a range of traditional instruments, including trumpets, trombones, tubas, clarinets and saxophones. This world-renowned brass band was created by Rahis Bharti, founder and artistic director of the Dhoad Gypsies of Rajasthan.
For more information please visit: Jaipur Maharaja Brass Band official Web Site
Bollywood Masala Orchestra – Spirit of india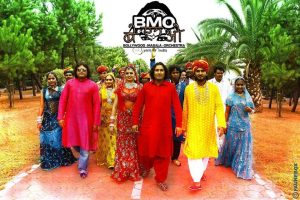 Today and for the first time ever, the Bollywood Masala Orchestra takes you on a journey throughout Northern India, from Rajasthan to Mumbai. Sixteen professional artists, musicians, singers, dancers, acrobats, and fire eaters from Jodhpur, Jaipur, Sikar, Khandela, and Mumbai, travel across the world and carry with them the Indian dance and music of today.
Somewhere between traditional and modern, from classical spiritual Indian music all the way to the now famous romantic songs of Bollywood, this unique group of artists beats the snares and the bass-drums, mixes together the powerful rhythms of brass instruments (trumpet, clarinet, trombone) with the melodic chords of traditional instruments like tablas, dholaks, harmonium, castagnettes…
The Bollywood Masala Orchestra will take you into a spectacular journey, full of colors, fascinating dances and remarkable traditional costumes, with a fire eater bouncing around on stage among the acrobats! The Indian musician Rahis Bharti, born and raised in the music and the fabulous tales of his home country, founded the Bollywood Masala Orchestra.
He brings through it everything he learned through over twelve years of experiences around the world: show the incredible musical diversity of India, constantly moving forward. Thanks to him, the Bollywood Masala Orchestra and its artists give life to an unforgettable and extraordinary spectacle through the eternal and captivating country that is India.
For more information please visit: Bollywood Masala Orchestra Official Web Site