Symphonic Pop&Rock Concerts - Walter Proost
Conductor (Türkiye, Special Projects)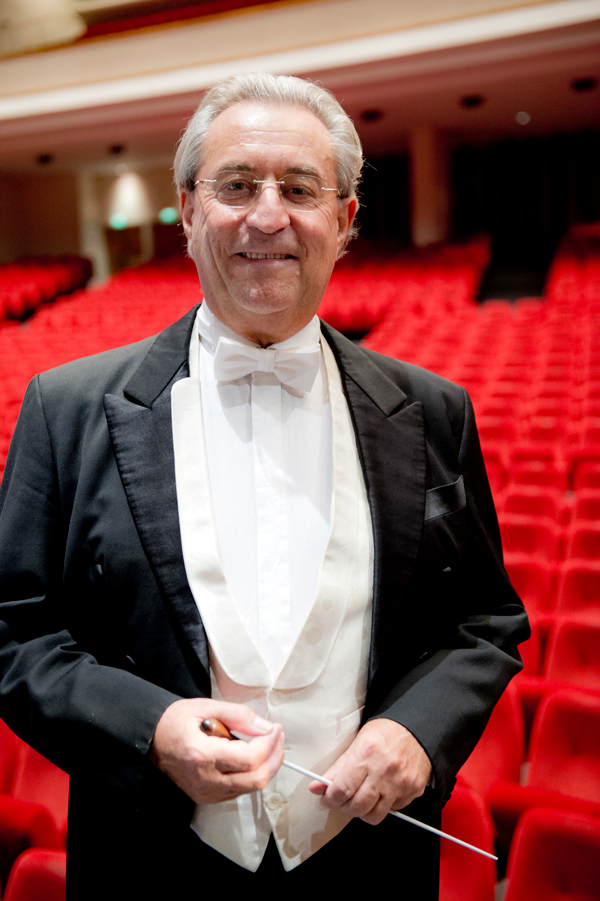 Walter Proost was born in Beveren-Waas (Belgium). He first studied piano and percussion and took orchestra conducting courses at the Royal Conservatory of Music in Antwerp (Belgium). He continued his training by two years of private conducting study with Maestro Jan Stulen, principal conductor of the Orchestra of the Dutch Radio and Television Broadcasting System in Hilversum. In 1978 and 1979 he perfected himself in the United States – with Leonard Bernstein – and in Japan.
In March 1999 Maestro Walter Proost made a most successful debut with the prestigious Royal Philharmonic Orchestra in London. The orchestra promptly appointed him regular guest conductor for the coming seasons. Maestro Proost meanwhile led a series of concerts in the U.K., e.g. at Royal Albert Hall in London, and he annually took the orchestra on tour to Belgium and The Netherlands. The co-operation with this renowned orchestra also includes various CD-recordings.
From 1978 until 1989 he held the position of General and Artistic Director of The Flemish Chamber Opera in Antwerp (Belgium).
Tours with the San Remo Symphony Orchestra – of which he was appointed Music Director and Chief Conductor from 1994 until 1997 – have taken him throughout Italy, Belgium, Germany and The Netherlands.
As from the beginning of the 1999-2000 season, Maestro Proost was also frequently performing with the "Orchestra Filarmonica Italiana" in Piacenza. On February 13, 2000 they gave a prestigious concert at the Vatican in Rome, on the occasion of the celebration of the Holy Year. Walter Proost also conducted the orchestra on a tour through Belgium and The Netherlands in November 2000.
At his debut at the " Großer Musikvereinssaal " – the Golden Hall – in Vienna in March 1998, Maestro Proost experienced an overwhelming success conducting the "Niederösterreichisches Tonkünstler-Orchester ". This orchestra since then invited him back to Vienna for a yearly guest appearance, e.g. for the opening concert of the 2000-2001 season, for the Valentine concerts in February 2002, twice for a concert in the cycle "Musik der Meister" which took place on December 7, 2002 and April 19, 2004. The last invitation implied a series of 7 concerts which he conducted in April 2005.
As from the 1999-2000 season, Maestro Proost is working as permanent guest conductor with the Symphonic Orchestra of the Slovenian Radio & Television in Ljubljana (RTV Slovenija). On October 14, 2002 he had the pleasure to conduct this orchestra in a concert that was live broadcasted by the EBU ( European Broadcasting Union) in 14 European countries, as well as in the U.S.A., Canada and Japan.
From July 2000 until January 2005, he was appointed Chief Conductor with the " Orchestra Sinfonica della Provincia di Bari " in Italy. Besides their vast annual concert season in Italy, the orchestra and its Maestro also toured Belgium and the Netherlands twice. In July 2001 and 2002, Maestro Proost was invited by Maestro Menotti to conduct 2 concerts at his famous "Festival of Two Worlds" in Spoleto.
In November 2002, he led the "Teatro Lirico di Cagliari" in a live concert for the German radio station "Bayerische Rundfunk". This unique and massive project took place in Munich and included about 300 performers. On the programme, the "Messa di Requiem in memoria di Pier Paolo Pasolini" by Roberto De Simone.
From 2006 until June 2013 he held the position of artistic director and chief conductor with the orchestra "Orchestra of the low lands". In 2013 he had the honor to conduct the only two concerts of Maestro Placido Domingo in the Benelux.
Since October 2013 he is artistic director and chief conductor of the new orchestra "European Philharmonia", with which he wants to bring classical music closer to the people again. Highlights with this orchestra include the international tour with Hans Zimmer, Disney in Concert in Palais 12 in Brussels, Gladiator and Symphonic Spectacular on the Grand Place in Brussels.
From 2014 to 2018, he was Principal guest conductor with the "St. Petersburg State Symphony Orchestra" . He also lead the orchestra on several international tours (Finland, Belgium, Switzerland and Italy).
An international career 
Maestro Proost's brilliant international career is still expanding steadily and leads to him guest conducting various major European orchestras in England, Italy, Germany, France, Spain, Turkey, Slovenia, Croatia, Switzerland, The Netherlands and Belgium.
Walter Proost's guest appearances throughout the United States, e.g. in San Francisco, Sacramento, San Diego, Denver and many other cities were all received with great critical acclaim. He was also invited by a few symphonic orchestras in South America (Mexico and Brasil). In the Far East, he conducted the Seoul Philharmonic in Korea and the Nagoya Philharmonic in Japan.
He is working together with famous soloists, such as Aldo Ciccolini, Gil Shaham, José Van Dam, Barbara Hendricks, Mariella Devia, Boris Belkin, Barry Douglas, Radovan Vladkovich, Pierre Amoyal, Augustin Dumay, Placido Domingo and many others.
Recordings
Maestro Proost has many recordings to his credit. We only mention the most important ones.
Most recently he recorded all works of Beethoven for piano and orchestra, including Triple Concerto, Choir Fantasy, Violin Concerto (piano version) and the 5 concertos, with St. Petersburg State Symphony Orchestra and Brazilian pianist, Eliane Rodrigues.
In collaboration with the Flemish Chamber Orchestra and the famous Dutch violinist Jaap van Zweden, a CD has been released on the "Sony Classical" label, featuring Leonard Bernstein's "Serenade after Plato's Symposium", "Three Dance Episodes from 'On the Town'" and the Overture to "Candide", together with the "Concerto for Violin and Orchestra" by Samuel Barber.
For the Swiss label "Disques VDE-Gallo", Walter Proost and the Sanremo Symphony Orchestra realized three CDs under the collective name "Classical Music around the World".
In December 1999, he recorded his first CD in collaboration with the Royal Philharmonic Orchestra, featuring a selection of overtures by various composers.
CROSS-OVER PRODUCTIONS IN SYMPHONY & NEW SEASON 2022/2023 Performances
CROSS-OVER PRODUCTIONS IN SYMPHONY
1. Abba in Symphony ( with choir )
2. Beatles; Queen in Symphony ( with choir )
3. Homage Aznavour ( with 2 vocals and combo )
4. Film Music Oscar Winners ( with films if needed )
5. Disney in Concert.
6. Disney Classics Fantasia.
7. Michael Jackson in Symphony ( with rock band and 3 vocals )
8. Prince in Symphony ( with rock band and 3 vocals )
9. Metallica in Symphony ( with rock band and 2 vocals )
10. Rolling Stones in Symphony ( with rock band and 2 vocals )
11. Tribute to Hans Zimmer ( with rock band, el.cello, 2 vocals and choir
12. Pink Floyd in Symphony ( with rock band and 2 vocals )
13. Tribute to George Michael & David Bowie ( with rock band and 2 vocals )
14. James Bond Music Highlights ( with combo and 2 vocals )
15. Elvis Symphonic " He will live forever " ( with combo , solist singer and 3
vocals )
16. The Best of Ennio Morricone ( for Symphony Orchestra, Soprano & Choir)
17. Tribute John Williams( for Symphony Orchestra; Choir )
Abba in Symphony with Choir
Pink Floyd Symphonic
Prince in Symphony – YouTube
link Michael Jackson in Symphony – You Tube
Metallica in Symphony – you tube
Hommage Aznavour
Rock; Pop Symphonic