Ahmet Koç feat. Vasilis Saleas
Baglama, Clarinet – (Türkiye, Various Countries)
Born on 15 May 1968 in İstanbul, Ahmet KOÇ attended the ITU Turkish Music State Conservatory for 11 years from 1979. Participating as accompanist at concert stages and recording sessions at a very early age, he produced his first album "7 KARANFİL" in 1995. It broke sales records which led to his next album "YEDİVEREN/ANADOLU".
In 1997, he represented Turkey in Eurovision by accompanying singer Şebnem PAKER with the song entitled "DİNLE" composed by Levent ÇOKER, which won the third prize, the best prize for Turkey in her Eurovision history. Shortly after the Eurovision, he produced the album "YOL TÜRKÜLERİ". His real breakthrough came with the album "PARADOKS", which pushed the technical limits of the Turkish national instrument baglama. Performing foreign songs using baglama, he blazed a trail and showed that any song can be played by baglama. The album "SAĞANAK" came in 2006 as double CD consisting of both Turkish and foreign songs which became as popular as "PARADOKS". In the meantime, he prepared and presented an a live performance program, which lasted 26 weeks, on KRAL TV. He also took part in a short movie entitled ""MUTLU OL, BU BİR EMİRDİR", which was written and directed by Sinan ÇETİN.
In 2007, he produced "SÖZÜN BİTTİĞİ YER" and "SONGS FOR İSTANBUL". In the latter album, Ahmet Koç performed the great works of world-famous foreign composers composed for İstanbul with the tones of Turkish music. The album " KOLEKSİYON" consisting of the last 4 albums and involving chords and musical notes came with an attractice cover design.
Prepared and presented a performance program entitled " SÖZÜN BİTTİĞİ YER! on the TRT musical channel which lasted for 26 weeks. With the idea of doing something different, he published the duet album "RENKLİ-TÜRKÇE" consisting of duets with renowned vocal artists such as KİBARİYE, GRİPİN, GÖKSEL and BETÜL DEMİR. Next albüm was with İSTANBUL SES KAYIT group, together with the famous composer and flute artist, Burhan BAYAR and the guitar virtuoso, Erdinç ŞENYAYLAR which stayed as number one for a long time in digital charts. His last album with the renowned Greek clarinet virtuoso Vasilis Saleas in 2021 was an immediate hit as well.
YEDİVEREN/ANADOLU (EVERBLOOMING/ANATOLIA) – 1996 – BMG – ADA MUSIC
YOL TÜRKÜLERİ (SONGS ON THE ROAD) – 1998 – İDOBAY MUSIC
SÖZÜN BİTTİĞİ YER (WHERE WORDS FAIL) – 2007 – DMC
SONGS FOR ISTANBUL – 2007 KÜLTÜR CO. INC.
COLLECTION & BOX (Paradox-Downpour- Where Words Fail & Cord-Musical Note Booklet) 4CDs + BOOK-2009-DMC
RENKLİ – TÜRKÇE (COLOURED – TURKISH) – 2012 – EUROPE MUSIC
İSTANBUL SES KAYIT (İSTANBUL VOICE RECORD) – 2016 – POLL PRODUCTION
İSTANBUL SES KAYIT (İSTANBUL VOICE RECORD)- NAR (POMEGRANATE) 2017 POLL PRODUCTION
EVVEL ZAMAN İÇİNDE (ONCE UPON A TIME) – 2018 – DMC
PASTORAL 2019 – DMC
DAPHNE 2021 – DMC
Vasilis Saleas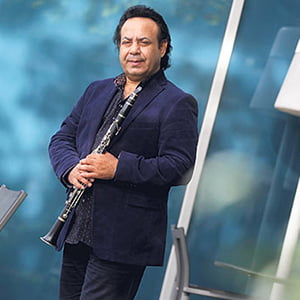 Saleas is of Gypsy origin and he was born in Mesolongi[3] in 1958. A year after, he moved to Athens. He was taught to play the clarinet at the age of nine having his father as his teacher and he performed his first club concert two years later. By the age of 14 he had mastered the clarinet and recorded his first disc.
Choreyte Me Ton (1980)
I Pnoi Tou Ouranou (1992)
Orama: Vassilis Saleas Plays Vangelis (1996)
Litany (1997)
Isimeria (1999)
Fasma (2001)
Mediterranean (2002)
Chrysalis: Vassilis Saleas Plays Mimis Plessas (2004)
Olon: Vassilis Saleas Meets The Great Composers [Compilation] (2007)