Mehmet Polat
Oud ( Türkiye, Various Countries)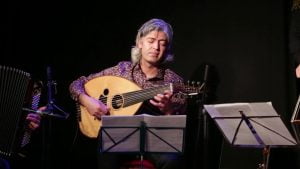 Mehmet Polat is a young master of ud and composer. He is from Turkey and living in Amsterdam. With his new project Embracing Colours he brings together outstanding jazz musicians to form a brand new constellation of ud, drums, upright bass and accordion.
After years of international touring with his ensembles inspired by the rich musical traditions of The Middle East, Africa, India, Europe and the Balkans, Polat is seeking out new jazzier ground for his modal jazz forms compositions.
As always, Polat likes to leave plenty of room for improvisations in his pieces, resulting in an adventurous sound and a rich audience experience. Their debut album 'Quantum Leap' was released in March 2019.
Mehmet Polat, Ud & Compositions Joan Terol Amigo, Drums Hendrik Müller, Upright Bass Bart Lelivelt, Accordion "Quantum Leap is richly melodic and spreads out over many musical horizons. A must-have album" – Jazz Halo, Belgium "There are 12 songs in the album, each one is a gem. Quantum Leap absolutely must be listened." OnTopOfMusic.Com, Netherlands "Cultures meet, new music emerges and a small miracle happens – the music seems timeless and breathtakingly beautiful." – Moors Magazine, Belgium "A perfect combination of folk and jazz – Chapeau for this amazing album!" – Rootstime, Belgium