Vladimir Mogilevsky
Piano  / (Türkiye, Special Projects)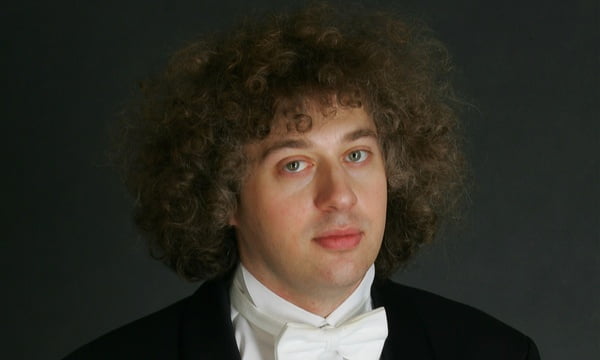 Vladimir Mogilevsky was born in Moscow. The Gnessin Music School discovered his exceptional talent when he was only five. At the age of only eight, at prestigious festivals in Moscow, he played pieces written specially for him by considerable composers. He keeps up this tradition, and he receives works from well-known composers from all over the world. He finished his studies at the Gnessin Music Academy with the highest honours as a concert pianist. Since 1995 he lives in Germany.
Mogilevsky has won prizes at numerous international festivals and competitions. Among others, at the International Piano Competition in Porto he won Second Prize as well as the Special Prize "for the best interpretation of a Beethoven Sonata". After his triumph in Porto, he made his debuts in the most prestigious and most important concert halls in Germany and nearly every European country, Israel, Turkey, China, Mexico and in South Africa.
Mogilevsky is also very much in demand as a chamber musician. His partners include Matt Haimowitz (cello), and also Vadim Repin (violin). His recital with Vadim Repin during the Ohrid International Summer Festival in 1998 was awarded the Grand Prize "for the best festival concert" by the jury. Mogilevsky was invited to give five concerts in the house of Franz Liszt in Weimar, on Liszt's own Bechstein Grand, after which Mogilevsky was warmly welcomed and praised his interpretations by the composer's great-granddaughter.
Apart from his concert activities, Mogilevsky frequently plays for radio and television. On television, his Liszt Recital, a two-part Beethoven Recital and a Duo Recital with Vadim Repin have been broadcast many times. His live concert on the radio station Deutsche Welle has frequently been re-broadcast world-wide and a CD of it has been issued. His CD One day in the studio, has been played on West Deutsche Rundfunk. Vladimir's actual CD has been recorded on 12 historic pianos, including on which played Mozart and Beethoven. Pianist, in addition, gave a concert at the historic Beethoven piano that was an event in the cultural life.
At the request of Michel Morales Escobar, winner of an Oscar in the Short Films Category, Mogilevsky played for a Music Video – "A Dream in Venice". This was shot in Venice, with Mogilevsky playing Liszt's Liebestraum as well as acting. His interpretations have aroused enthusiasm for persons as President of Germany Johannes Rau, Chancellor of Germany Gerhard Schröder, Vice Chancellor and Foreign Minister of Germany Klaus Kinkel, Vice Premier of the Government of the Russian Federation Dmitri Rogosin.
Apart from concerts, Vladimir Mogilevsky also gives master classes around the world, did a special methodic books and examination books for music schools, is a member of juries of international competitions. He is interested in jazz, improvises and composes his own music. Legendary Oscar Peterson, with whom Vladimir met and to whom dedicated several of his works, praised the music of Mogilevsky, personally placing these works in his (Oscar Peterson's) archive in the National Library of Canada in 1997.
Vladimir Mogilevsky is the official and exclusive Steinway & Sons Artist from 2000.
In December 2004 in Berlin Vladimir Mogilevsky was awarded the International Prize "for the Outstanding Achievements in Musical Culture".
Piano Concertos with orchestra
Haydn -Dur
Mozart Dur, KV 459 ( Nr.19 )
—- A-Dur, KV 488 ( Nr.23 )
—- C-Dur, KV 503 ( Nr.25 ) ( Mogilevskys own Cadenza or by Schnittke)
—- B-Dur, KV 595 ( Nr.27 )
Beethoven —- B-Dur, op.19 ( Nr.2 )
Schubert —- Adagio und Rondo F-Dur D 487 ( arr. for piano with orchestra )
Chopin —- e-moll, op.11 ( Nr.1 )
—- Andante spianato and Grande Polonaise brillante, op.22
Tchaikovsky —- b-moll, op.23 ( Nr.1 )
—- G-Dur, op.44 ( Nr.2 ) (Mogilevsky's own edition,premiere in 1998 in the Tonhalle in Düsseldorf)
Darius Milhaud —- Nr.1 (premiere performance in USSR)
Richard Strauss —- "Burleske" d-moll
Hindemith —- Konzertmusik (1930) für Klavier,Blechbläser und Harfe
Bartok —- G-Dur ( Nr.2 )
Tikhon Khrennikov —- C-Dur ( Nr.3 )
Dmitri Shostakovich —- c-moll ( Nr.1 ) op.35