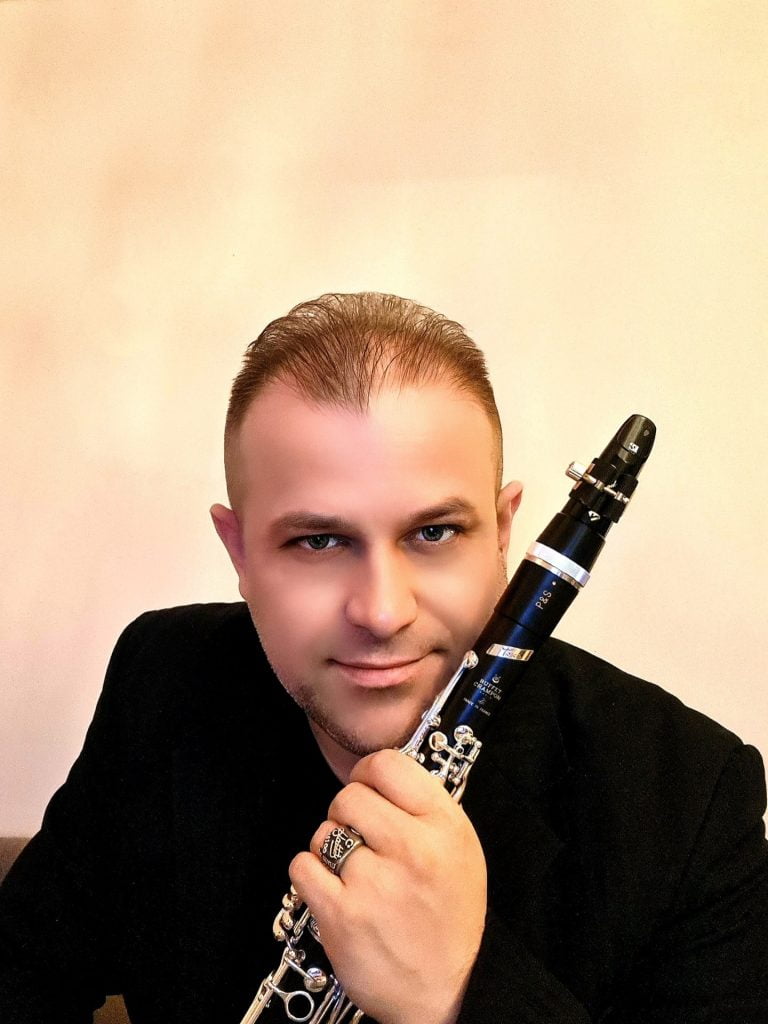 And Karabacak was born in Edirne in 1981. He began his first musical education in Trachea University State Conservatory in 1992, at the age of 11.  Continuing his university studies and Master of Music education at the Bilkent University Music and Performing Arts Faculty- Ankara from 1998 until 2006, received his second Master of Music degree in "RCM London", being supported by grantors such as "Borusan Holding Asım Kocabıyık Foundation", "Eczacıbaşı Holding" and major art-lovers and businessmen from London. In this period, he studied with great tutors and professors like Oktay BAGIROV, Igor ABRAMOV, Vladimir ZVEREV, Nusret İSPİR, Prof. Janet HILTON, Prof. Timothy LINES( London Symphony ). He also studied with well-known soloists like Nicolas BALDEYROU (2006), Maximiliano Martin (2007), Alessandro Carbonare (2008) ve Pascal Moragues (2007,2009), Sarah ELBAZ (2005), Michel ARRIGNION (2005), Alain DAMIENS (2005).
During his career, he worked and participated in world famous orchestras and major Turkish orchestras; London Symphony (2007,2009), RCM Symphony (2007-2009), Borusan İstanbul Philharmonic Orchestra (2005), İstanbul State Symphony Orchestra (2006-2010), Antalya State Symphony Orchestra (2010-2017), Bursa Region State Symphony Orchestra (2018,2023) and Bilkent Symphony Orchestra (2000-2007).
And Karabacak also gave many concerts as a soloist with orchestras such as RCM Symphony (2008), Borusan İstanbul Philharmonic Orchestra (2010), İstanbul State Symphony (2003), Bursa Region State Symphony (2022), Bilkent Youth Symphony (2004), Bursa Uludağ University Youth Orchestra (2018), British Youth Symphony Orchestra (2009), Capital City Chamber Orchestra-Ankara (2002,2023), Balkan Symphony Orchestra (2023) and Tokay Chamber Philharmonic Orchestra (2010); worked under the baton of great conductors like Valery GERGIEV, Jacques MERCIER, Ari RASILAINEN, Emil TABAKOV, Avi OSTROWSKY, Karl Anton RICKENBACHER, Christian SIMONIS, Martin ANDRE, Antonio PIROLLI, Peter FERANEC, Dimitri ASHKENAZY, Howard GRIFFITHS, Gürer Aykal, Rengim GÖKMEN; accompanied to great soloist like ASHKENAZY, SAY, ONAY, Mischa MAISKY, BİRET.
He performed at many solo recitals and chamber music concerts in England, Scotland, France, Spain, Bulgaria, Russia and Turkey. Also played in concert halls like Barbican Centre, RCM Concert Hall, St. James's Piccadilly Church, Covent Garden, Royal Scottish Academy Concert Hall, Lütfü Kırdar Convention Centre, İş Sanat Twin Towers Concert Hall, CRR Concert Hall, İstanbul-Bursa-Antalya Atatürk Cultre Centers and Bilkent Concert Hall.
Karabacak won important prizes in various competitons. RCM Concerto Competition (2007,2008 finalist, 2009 Concert), İstanbul Young Generation Soloist Competitions (1997-2002), Young Talents Competition- Winner Turkey (1995). He gave master classes in RCM London (by video conference with the New Zealand Conservatory), İstanbul, Bursa and Edirne.
Since 2010, he has been working with Turkish composer and conductor Fırat YÜKSELİR for composing, arranging and recording music for movies and tv series. Fırat YÜKSELİR and another Turkish composer, Associate Prof. İlke KARCILIOĞLU composed two clarinet concertos for And KARABACAK who shall perform their world premieres.
In 2012, And Karabacak became a member of the Mimar Sinan Fine Arts University İstanbul State Concervatory as clarinet instructor and has been working on his Doctoral Degree.