Florin IONESCU GALATI
Violin (Türkiye, Special Projects)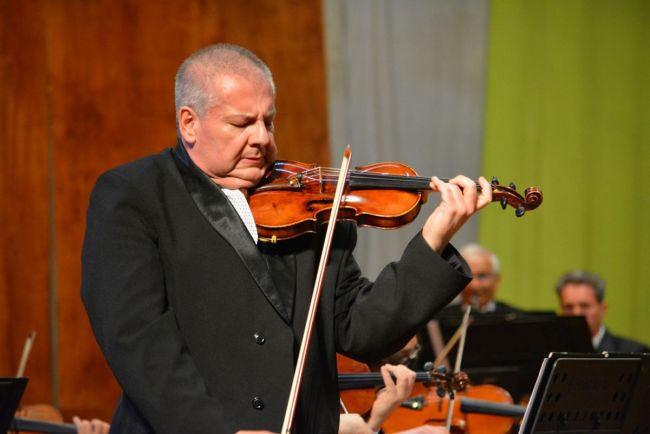 Florin IONESCU-GALATI was born on the 19th of April 1970 in Bucharest, Romania. He started to study the violin at the age of four with his father, the famous violinist and conductor Ilarion IONESCU-GALATI.
At the age of 10, he started his violin career by having his first broadcast with the National Radio Orchestra, playing Concerto for violin by Kabalevsky and receiving excellent critiques.
Florin attended the School of Music in Brasov as beginning of 1976 receiving instruction from Radu Hamzea. In 1989 he became a student of the Academy of Music in Bucharest, his teacher being professor Stefan Gheorghiu, but always under his father's musical advice.
Along with several recitals and concerts in Romania, Florin IONESCU-GALATI began his international career in 1982 by performing recitals and concerts with orchestras in the United States, Canada, Switzerland, Bulgaria, Turkey, Greece, Austria, Moldavia, France, Italy, Norway, Japan, Germany, Spain and England (London).
In 1993, he became state soloist of the "Brasov Philharmonic Orchestra", Romania and in 2014 of the "George Enescu" Philharmonic Orchestra Botosani, Romania.
Awards and Distinctions:
He was Prize Laureate in the following International Competitions:
International Competition "Usti nad Orlici", Czechoslovakia 1985

International Competition "Stresa", Italy 1986

International Competition "Dinu Lipatti", Romania 1987

International Competition "George Enescu", Romania 1991

International Competition "Tibor Varga", Switzerland 1992

International Competition "Paganini" Genova , Italy 1993

International Competition Wieniawski, Poland 1994

The Highest Prize of the "Union of Critics and Romanian Interprets" 1996

The Highest Prize of the Romanian Television 1996, 1997

The Highest Prize given by PRO TV for the international collaboration Romania-America telecast concert
He was declared as the soloist of the year in all over Turkey in 2000.
In 2003 the foundation "Ion Voicu" presented him diploma and golden medal for his special merit of maintaining a life the memory of the great violinist Ion Voicu.
In 2002 and 2004 he was awarded by the Union of the Romanian Critics for Music for promoting the Romanian music in Romania as well as abroad.
Recordings:
"L'Estro Armonico" by Vivaldi, Electrecord, 1988

12 Concerts recorded by Romanian Radio and TV Broadcasting, 1988 – 1996

CD "Paganini 1" for violin at Munchen – Hercules Hall

4 Concerts recorded by Turkish TV Broadcasting, 1994-1998

CD "Mozart" Concert no.3 with Brasov Philharmonic, 1998

CD "Schubert" Forellenquintett 1998 International Chamber Festival

CD New Year Concert 2000, encores

ZDF 3 concerts life recordings from festivals
Repertory:
Tartini, Corelli, Bach, Mozart, Leclair, Arriaga, Beethoven, Schubert, Brahms, Paganini, Locatelli, Wieniawski, Bruch, Lalo, Enescu, Elenescu, Kreisler, Saint-Saens, Ysaye, Kabalevsky, Tchaikovsky, Sarasate, etc.
He now has permanent collaboration with all Orchestras all over Europe.
He has played with:
Graz Symphony Orchestra

Saarbrucken Symphony Orchestra

Turkish Symphony Orchestras: Istanbul, Ankara, Izmir, Adana

Norway Symphony Orchestra

Marseilles Symphony Orchestra

München Symphony Orchestra

Genova Symphony Orchestra

Athens State Symphony Orchestra

Moldavian Philharmonic Orchestra

Janacek Philharmonic Orchestra Prague

Deutsches Rundfunk Symphony Orchestra

Bucharest Philharmonic Orchestra

Bucharest Radio National Orchestra

Basel Radio Orchestra… among others.
Played and/or collaborated with renowned musicians, such as;
Lazar Berman, Radu Lupu, Iosif Conta, Ayla Erduran, Valentin Gheorghiu, Rainer Hoffmann, Igor Oistrach, Viktor Pikaisen, Eugen Sirbu, Michael Stern, Victor Tretiakov, Tibor Varga, Ion Voicu, Lory Wallfish, Ian Brown, Horea Andreescu, Vladimir Altschuler, Gűrer Aykal, Alexander Rahbari, Marek Pijarowski….
Played in famous Concert Halls, including;
Bucharest, "George Enescu" Philharmonic Hall "Atheneum"

Gasteig Concert Hall München

Herkulessaal, München

Carnegie Hall, New York

Megaron, Athens

Megaron,Thessaloniki

Bilkent, Ankara

Beethoven Halle, Bonn

Stefaniesaal, Graz
– Bucharest Radio National Hall
Santory Hall, Tokyo, Japan.. to name a few.
2022-23 Season Repertoire with symphonic orchestra:
Wieniawski:———–2nd Concerto
Vivaldi:—————–Four Seasons (Perlman edition), (orch.material.from soloist)
Mozart:—————-Concerto Nr 3 in G
Mozart:—————-Symphony Concertant
Haydn:—————-Concerto for violin and piano
Concertos for strings orchestra and Cembalo 
-J. S. Bach—————Mi Major Concert
-J. S. Bach—————La Minor Concerto
G. B. Pergolesi———Concerto
A. Corelli—————–Folie d'Espagne
G. Tartini—————–Devil's Trill
A. Vivaldi—————- The four Season.
P. Nardini—————-Concerto  (needs 5 winds, )
Pergolesi, Nardini and Corelli  (all three in the first half of the program).
Program for light music, Bass guitar, Cembalo, Drums: 
-Bach———————-Jazz Air
-F. Kreisler—————Schon Rosmarin
-F. Kreisler—————Liebeslied
-F. Kreisler—————Liebesfreud
-F. Schubert————-Ave Maria
-S. Joplin—————–The Easy Winner
-S. Joplin—————–Elite Syncopations
-S. Joplin—————–The Enterteiner
-W. A. Mozart———–Eine Kleine Nachtmusik  Firs part
-A. Vivaldi—————-The storm
-V. Monti——————Csardas
-Dinicu-Heifetz———-Hora Staccato.