Florin IONESCU GALATI
Keman (Türkiye, Özel Projeler)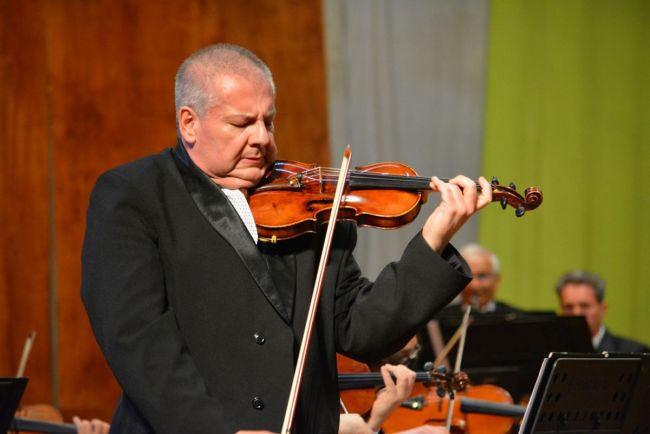 Florin IONESCU-GALATI 19 Nisan 1970'de Bükreş, Romanya'da doğdu. Dört yaşındayken babası ünlü kemancı ve orkestra şefi Ilarion IONESCU-GALATI ile keman eğitimine başladı.
10 yaşındayken Ulusal Radyo Orkestrası ile verdiği ve çok olumlu eleştiriler aldığı Kabalevsky Keman Konçertosu kaydı ile solistik kariyerine başladı.
1976'nın başında Braşov'daki Müzik Okulu'nda Radu Hamzea'nın sınıfına kabul edildi. 1989'da Bükreş Müzik Akademisi'nde Stefan Gheorghiu ile çalışmaya başladı, bu süreçte her zaman babasının müzik danışmanlığı devam etti.
Sanatçı, 12 yaşından itibaren Romanya'da çeşitli resital ve orkestra eşliğinde konserler ile başladığı kariyerine uluslararası alanda Amerika Birleşik Devletleri, Kanada, İsviçre, Bulgaristan, Türkiye, Yunanistan, Avusturya, Moldavya, Fransa, İtalya, Norveç'te devam etti; Japonya, Almanya, İspanya ve İngiltere (Londra)'de turneler yaptı.
1993'te Romanya'da "Braşov Filarmoni Orkestrası"nın ve 2014'te Romanya'da "George Enescu" Filarmoni Orkestrası Botosani'nin devlet solisti oldu.
Tümü uluslararası yarışmalarda aldığı ödüllerin en önemlileri şunlardır:
Usti nad Orlici, Çekoslovakya 1985
Stresa, İtalya 1986
Dinu Lipatti, Romanya 1987
George Enescu, Romanya 1991
Tibor Varga, İsviçre 1992
Paganini – Cenova, İtalya 1993
Wieniawski, Polonya 1994
Rumen Eleştirmenler ve Yorumcular Birliği Büyük Ödülü, 1996
Romanya Televizyonu Ödülü 1996, 1997
Uluslararası işbirliği Romanya-Amerika telecast konseri için PRO TV tarafından verilen Büyük Ödül
Ayrıca sanatçı, 2000 yılında tüm Türkiye'de yılın solisti ilan edildi.
2003 yılında "Ion Voicu" vakfı, büyük kemancı Ion Voicu'nun anısına, gösterdiği başarılardan dolayı kendisine diploma ve altın madalya takdim etti.
2002 ve 2004'te Rumen müziğini Romanya'da ve yurtdışında tanıttığı için Romanya Müzik Eleştirmenleri Birliği tarafından ödüllendirildi.
Recordings:
"L'Estro Armonico" by Vivaldi, Electrecord, 1988

12 Concerts recorded by Romanian Radio and TV Broadcasting, 1988 – 1996

CD "Paganini 1" for violin at Munchen – Hercules Hall

4 Concerts recorded by Turkish TV Broadcasting, 1994-1998

CD "Mozart" Concert no.3 with Brasov Philharmonic, 1998

CD "Schubert" Forellenquintett 1998 International Chamber Festival

CD New Year Concert 2000, encores

ZDF 3 concerts life recordings from festivals
Repertory:
Tartini, Corelli, Bach, Mozart, Leclair, Arriaga, Beethoven, Schubert, Brahms, Paganini, Locatelli, Wieniawski, Bruch, Lalo, Enescu, Elenescu, Kreisler, Saint-Saens, Ysaye, Kabalevsky, Tchaikovsky, Sarasate, etc.
He now has permanent collaboration with all Orchestras all over Europe.
He has played with:
Graz Symphony Orchestra

Saarbrucken Symphony Orchestra

Turkish Symphony Orchestras: Istanbul, Ankara, Izmir, Adana

Norway Symphony Orchestra

Marseilles Symphony Orchestra

München Symphony Orchestra

Genova Symphony Orchestra

Athens State Symphony Orchestra

Moldavian Philharmonic Orchestra

Janacek Philharmonic Orchestra Prague

Deutsches Rundfunk Symphony Orchestra

Bucharest Philharmonic Orchestra

Bucharest Radio National Orchestra

Basel Radio Orchestra… among others.
Played and/or collaborated with renowned musicians, such as;
Lazar Berman, Radu Lupu, Iosif Conta, Ayla Erduran, Valentin Gheorghiu, Rainer Hoffmann, Igor Oistrach, Viktor Pikaisen, Eugen Sirbu, Michael Stern, Victor Tretiakov, Tibor Varga, Ion Voicu, Lory Wallfish, Ian Brown, Horea Andreescu, Vladimir Altschuler, Gűrer Aykal, Alexander Rahbari, Marek Pijarowski….
Played in famous Concert Halls, including;
Bucharest, "George Enescu" Philharmonic Hall "Atheneum"

Gasteig Concert Hall München

Herkulessaal, München

Carnegie Hall, New York

Megaron, Athens

Megaron,Thessaloniki

Bilkent, Ankara

Beethoven Halle, Bonn

Stefaniesaal, Graz
– Bucharest Radio National Hall
Santory Hall, Tokyo, Japan.. to name a few.
2022-23 Season Repertoire with symphonic orchestra:
Wieniawski:———–2nd Concerto
Vivaldi:—————–Four Seasons (Perlman edition), (orch.material.from soloist)
Mozart:—————-Concerto Nr 3 in G
Mozart:—————-Symphony Concertant
Haydn:—————-Concerto for violin and piano
Concertos for strings orchestra and Cembalo 
-J. S. Bach—————Mi Major Concert
-J. S. Bach—————La Minor Concerto
G. B. Pergolesi———Concerto
A. Corelli—————–Folie d'Espagne
G. Tartini—————–Devil's Trill
A. Vivaldi—————- The four Season.
P. Nardini—————-Concerto  (needs 5 winds, )
Pergolesi, Nardini and Corelli  (all three in the first half of the program).
Program for light music, Bass guitar, Cembalo, Drums: 
-Bach———————-Jazz Air
-F. Kreisler—————Schon Rosmarin
-F. Kreisler—————Liebeslied
-F. Kreisler—————Liebesfreud
-F. Schubert————-Ave Maria
-S. Joplin—————–The Easy Winner
-S. Joplin—————–Elite Syncopations
-S. Joplin—————–The Enterteiner
-W. A. Mozart———–Eine Kleine Nachtmusik  Firs part
-A. Vivaldi—————-The storm
-V. Monti——————Csardas
-Dinicu-Heifetz———-Hora Staccato.