Sergio Puccini
Guitar (General Management)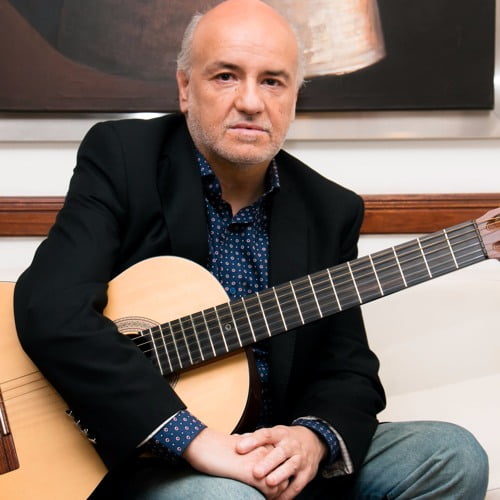 Praised by international acclaimed artists as Lalo Schifrin, Paul McCartney, Elmer Bernstein, Andrea Griminelli, Alberto Lysy, Ernesto Bitetti, Luis de Pablo, David Kahne, Gabriel Yared, Astor Piazzolla, Carlos Franzetti, among others, Sergio Puccini is a guitarist with a distinguished international concert and teaching career. Born in Rosario, Argentina, Sergio Puccini has captivated audiences in several countries with his expressive performances and solid technique. His innovative recital and concert programs and his collaborations in crossover music projects with musicians from diverse genres have drawn attention of presenters, audiences and critics.
Sergio studied jazz guitar and classical guitar and composition with outstanding teachers in Argentina and abroad: Santiago Grande-Castelli, Dante Grela, Juan Di Lorenzo, Leo Brouwer, Oscar Ghiglia, Alexandre Lagoya, Cacho Tirao. In 1981 he attended the summer courses dictated by great concert guitarist Ernesto Bitetti at Indiana University School of Music in Bloomington, US. Sergio was 1990-2006 Director of the Instituto Provincial de Música de Rosario where he also takes part in a flute-guitar duo with flutist Gabriel Leo.
Sergio Puccini made his debut at the famous Teatro Colón in Buenos Aires at 25, playing a duet with outstanding violinist Alberto Lysy and also with the prestigious Lysy-Gstaad Camerata from Switzerland. With Alberto Lysy he played in BA the world premiere of the piece for violin and guitar GLOSAS op 91 by chilean-US composer Juan Orrego-Salas, work written and dedicated to the duo Lysy-Puccini.
Both as recitalist and concert soloist Sergio Puccini developed an extended career appearing at the most important venues including a recital at the United Nations Hall in NY in 1995. Sergio gave also guitar master classes in Canada, Mexico, Iceland, Venezuela, Argentina and the US. Important symphonic and chamber orchestras has invited Sergio to play with them: Simon Bolivar Youth Symphony Orchestra (Venezuela), Maracaibo Symphony Orchestra (Venezuela), National Philaharmonic of Venezuela, Hungarian Virtuosi of Budapest, Mannes Orchestra (NYC), Czech Moravian Chamber Orchestra (Czech Republic), Lysy Gstaad Camerata (Switzerland), San Francisco Camerata Americana (US), Symphony of the Americas Orchestra (Florida, US), Cairo Symphony Orchestra (Cairo,Egypt), Ecuador National Symphony Orchestra, Argentina National Symphony Orchestra, El Salvador National Symphony Orchestra, Rosario Symphony and Chamber Orchestras (Argentina), Santa Fe Symphony Orchestra and others.
Sergio played the world and local premieres of works by composers such as Lalo Schifrin, Paul McCartney, Carlos Franzetti, Juan Orrego-Salas, Luis de Pablo, Noelia Escalzo, Juan Carlos Zorzi, Antón García Abril, Astor Piazzolla, Katia Makdissi- Warren, Belinda Reynolds, Karolina Eiriksdóttir (Iceland), Moisés Bertrán, Elmer Bernstein, Manly Romero, German Caceres, Belinda Reynolds, among others. In October 2016 Sergio played in NYC the world premiere of the suite "In the Key of Jazz" by six time Grammy winner composer Carlos Franzetti. The suite in four movements was written for Sergio and it was also offered in Buenos Aires at the prestigious venue CCK past November 2017.
His nine CD recordings are distributed worldwide and received great international reviews. The world premiere recording of legend jazz and classical pianist/composer/conductor Lalo Schifrin´s ROMERIAS (suite for guitar in nine movements) was nominated in 2011 to a Latin Grammy award in the US. The CD was released in Los Angeles by Aleph Records in 2010. In May 2017 was released A LEAF (EPSA Music label, Buenos Aires), the last album by Sergio with another world premiere recording: the suite A Leaf by Paul McCartney in its first guitar versión. Sir Paul McCartney heard the recording and sent a great remark to Sergio.
During 2020-21 Sergio Puccini will play and record the world premiere of works by great composers such as Alan Broadbent (Diablada Variations), Polo Piatti (Christmas Concerto), Gabriel Estarellas (Tema con variaciones y Tocata), Lee Holdridge (Concertino for guitar and orchestra), Oliver Davis (Three Pieces for guitar and orchestra to be recorded with RPO in London), Belinda Reynolds (Stories) and Noelia Escalzo (Guitar Concerto). Other projects include concerts with argentine mezzo Alejandra Malvino, argentine soprano Carina Herrera and UK soprano Thomasin Tresize.
Sergio plays a 2011 Straquadaini guitar and uses exclusively ARANJUEZ Guitar Strings made by luthier Juan Orozco.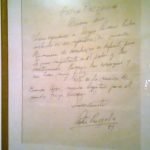 "I want to thank Sergio Puccini for having included my music in his repertoire. My music is not so difficult to play but the most important is the flavor and the accents…Mr Puccini got them and that makes me very happy!! This is the music from Buenos Aires!! Music from Argentina to the world!! Forza Puccini!!!"
Sincerely,
Astor Piazzolla, Buenos Aires, 1989″
Sergio Puccini Repertoire
Joaquín Rodrigo (Spain): Concierto de Aranjuez
Fantasía para un Gentilhombre
Manuel Ponce (México): Concierto del Sur
Astor Piazzolla (Argentina): Doble Concierto para guitarra, bandoneón y orq. de cuerdas
Carlos Franzetti (Argentina): Concierto del Plata, para guitarra y Orquesta (written for Sergio
Puccini)
Waldo de los Ríos (Argentina): Concierto para la guitarra criolla
Elmer Bernstein (US): Guitar Concerto
Lalo Schifrin (Argentina-US): Guitar Concerto n° 1
Leo Brouwer (Cuba): Concierto Elegíaco, para guitarra, cuerdas y percusión
Antón García Abril (Spain): Concierto Aguediano
Saúl Cosentino (Argentina): Guitar Concerto
Karolina Eiriksdóttir (Iceland): Guitar Concerto (written for Sergio Puccini)
Germán Cáceres (El Salvador): Concierto n° 1, para guitarra y Orquesta (2000) (written for
Sergio Puccini)
Obras en estreno nacional o latinoamericano:
Lalo Schifrin: Guitar Concerto n° 2 "Concierto de la Amistad"
Ennio Morricone (Italy): Doble Concierto para marimba, guitarra y orquesta de cuerdas (con la marimbista Mika Stoltzman)
Joseph Curiale (US): Adelina de Maya (Guitar Concerto)
Obras en estreno mundial:
Lee Holdridge (US): Concertino for guitar and orchestra (2019) written for Sergio Puccini
Oliver Davis (UK): Guitar Concerto (2020) written for Sergio Puccini
Noelia Escalzo (Argentina): Efímero (Guitar Concerto)
Doble Concierto "Pampeano" para flauta, guitarra y orquesta (con
Andrea Griminelli)
César Benito (España): Concierto para guitarra y orquesta de cuerdas
Polo Piatti (Argentina-UK): Christmas Concerto (2019) written for Sergio Puccini
Con Orquesta de Cámara:
Antonio Vivaldi: Concerti: in D (RV 93)
in A (RV 82)
Ferdinando Carulli: Concerto in A
Petit Concerto de Societé op 140 en E minor
José Martí Llorca (Spain-Argentina): Concertino para guitarra y orquesta de cámara
Antón García Abril (Spain): Concierto Mudéjar, para guitarra y orquesta de cuerdas
Tomás Marco (Spain): Concierto del Agua, para guitarra y orq. de cuerdas
Moisés Bertrán (España-Colombia): Esguards Silents (2003) para guitarra y orquesta de cuerdas
(escrita para Sergio Puccini)
Con Orquesta de Jazz (Big Band):
Carlos Franzetti (Argentina): In the Key of Jazz, for classical guitar and jazz orchestra (written
for Sergio Puccini)