Betin Güneş
Composer, Conductor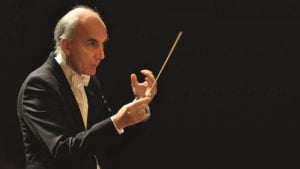 Betin Güneş was born in İstanbul in 1957. From 1964 to 1974 he studied at the Municipal Conservatory in İstanbul under Ferdi Statzer, Cenan Akın and Ergican Saydam. At Istanbul College of Music he gained a post graduate performance diploma in piano with distinction under Professor J. Uluğ (1979) and in composition under Professor İlhan Usmanbaş (1980)
He also graduated in journalism from İstanbul University. In 1980 a German Academic Exchange Service (DAAD) scholarship took him to Cologne Music Academy, where he qualified in composition under Professor J. Blume, conducting under Professor G. Fork and trombone under Professor B. Slokar. He also studied electronic music with Professor U. Humpert. He successfully completed an active master class with Sergiu Celibidache.
Since 1988 Betin Güneş has been conductor of the Cologne Symphony Orchestra and of the Ensemble Mondial String Orchestra. He is also conductor and founder of Turkish Chamber Orchestra. As a guest conductor he worked amongst others from the Scottish Chamber Orchestra until WDR Rundfunkorchester as well as with all National Symphony Orchestras of Turkey.
Güneş has toured through Europe, Asia and America – from Brazil to South-Korea, from Sweden to Spain. In addition to his broadcasting and TV performances he recorded disks and compact disks as composer, soloist and conductor – inter alia EMI Electrola, WEA, Audite and telos Music.
He recorded weekly TV-programs live – named Kunsttempel Betin Güneş – for the Turkish / German TV Türkshow. Ensembles like Auryn Quartett to Symphony Orchestras, Harpensemble to wind and brass ensembles achieved and helped bring his ideas to life, and they performed the works of Betin Güneş as well as the works of other Turkish composers.
He was appointed to several international competitions as a jury. He was visiting professor at the University of Essen and shaped a lot of workshops. His award-winning compositions include "Bilimde her şey vardır" (electronic music), "Orchesterstück 2.5", Adatontrum and "Bıdık" (Symphony for strings). Beside appearances on radio and television, Betin Güneş has also recorded a number of discs and CDs. His works as composer, soloist and conductor have taken him around the world to concerts in Europe, Asia and America. As well as chamber music, he has written 19 symphonies, electronic music and solo pieces.