Turkish Chamber Orchestra (Cologne)
(Special Projects)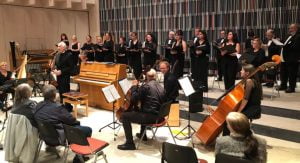 An Intercontinental Music Adventure
Consisting of soloists of the Cologne Symphony Orchestra and Ensemble Mondial and founded by composer/conductor Betin Güneş, the foundation of the orchestra dates back to 25 years.
The ensemble, consisting of musicians from different countries (Hungary, Japan, Russia, Poland, Korea, Germany, Turkey, Cyprus…..) has successfully performed the works of well-known composers as well as Betin Güneş and Turkish composers, again with the special orchestration of Betin Güneş. The ensemble has gained a unique timbre structure over these years.
The ensemble, which has numerous CD recordings (EMI Elektrola, Warner Brothers, Telos….) is highly appreciated with its unique structure and programs in various concerts and festivals they have been invited.
Composed of international musicians such as the Turkish Chamber Orchestra, the Choir associated with the ensemble also successfully interprets Betin Güneş's compositions and special arrangements, apart from the opera repertoire.
A Common Language of Humanity
In addition to instruments present in a symphony orchestra such as winds, strings, percussion instruments, piano… ; local ethnic instruments such as Tambur, Kanun, Ney, Kemençe, Oud, Bendir and Kudum taking part in the compositions and arrangements demonstrate that music is the universal common language.
Music has no language, religion, race, color or gender. Music, which is thought to exist together with the existence of human beings, is the common language of all humanity, which every society interprets with its own unique nuances and instruments, but which appeals to everyone when done well.
The mission of the Turkish Chamber Orchestra is to show that when the instruments and interpretations differentiated according to the cultures of the societies are blended correctly, is a unifying tool that appeals to everyone and allows them to feel the same emotions, and to introduce our culture to the world in the best and professional way by mainly including the works of the Turkish composers.